Easy 5 ingredient crock pot meals (Perfect for cooking in your RV kitchen)
Those of you that have RV kitchens know that they are T-I-N-Y. The size of our little RV kitchen has never really bothered me though. I guess it's because I look at it as part of the adventure! 🙂 Every recipe I cook in the RV kitchen has been adapted and made more manageable in the tiny space.
By making meals that can be prepped ahead of time you'll save on pantry and fridge space. Meals that are 5 ingredients or less, and what I call, 'dump and go' recipes, are my absolute favorite.
One of the easiest ways to cook in an RV is with a slow cooker. I LOVE using a slow cooker when we're traveling on the road in our RV. We do a lot of exploring and activities during the day and by the time we get back to the RV I often run out of steam and don't feel like cooking. It is so nice coming home and having your meal already cooked! When we're not traveling I am working full-time so having a fast and easy crock pot meal is a lifesaver especially in the chaotic evenings.
We have tested all of these recipes, and they were unanimously approved by all members of my family – 3 teen boys and my husband. I guess you could say our dog too, as she got a stray meatball from the meatball subs I made from the recipe below. LOL!
We are always looking for a new super easy and yummy recipe to cook in our RV. Feel free to share with us your favorite RV recipe and if we like it we'll be happy to share it with our readers! 🙂 -Kori

1 | Root Beer Crock Pot Pulled Pork
Photo credit: www.listotic.com
This is a true dump and go recipe! Honestly it's just of matter of setting a pork roast into the crock pot and then pouring a can of root beer (not diet) over it. How easy is that? For more flavor I usually sprinkle 1 or 2 tsp of a favorite dry seasoning (sometimes more). Set the crock on low for about 8 hours and that's it!  Once done, drain the liquid, shred pork. Add BBQ sauce and serve on a bun. Yum! See Listotic's Root Beer Crock Pot Pulled Pork recipe HERE
Easy meal idea: serve with coleslaw and baked beans
2 | Crockpot Chicken Salsa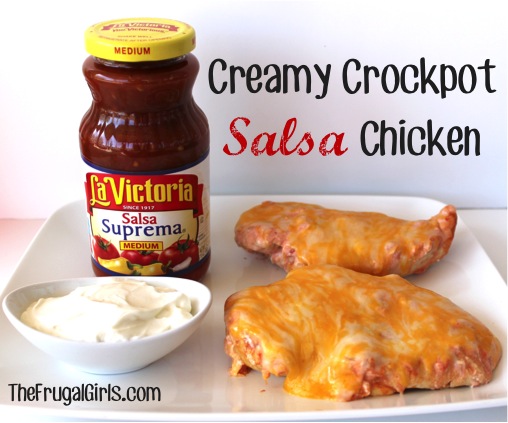 Photo credit: TheFrugalGirls.com
This is a very simple and tasty recipe. Make sure not to overcook the chicken as it can get dry. Even if you do overcook it slightly, you can shred the chicken, add the ingredients, and serve on taco shells. Serve with taco toppings. See The Frugal Girls recipe for Crockpot Chicken Salsa HERE
Easy meal idea: serve with re fried beans and a salad.  
3 |  Slow Cooker Meatloaf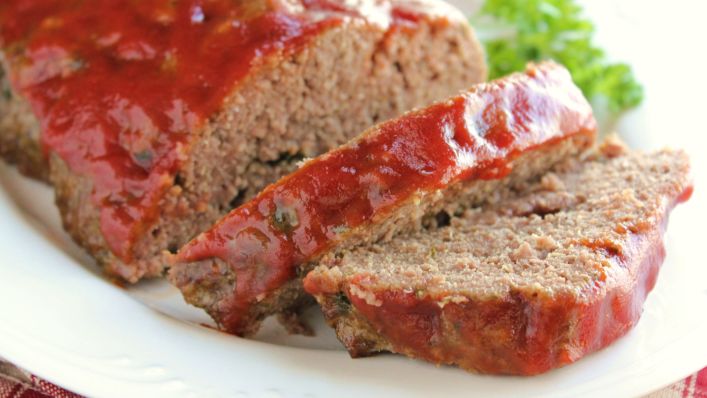 Image credit: www.geniuskitchen.com
I really had no clue that meatloaf done in a crock pot was so darn good. Seriously, it's really good. Cooking it in the crock pot keeps it moist and gives it a lot of flavor. Give it a try and let us know your thoughts.  We made it and it was wonderful. See Genius Kitchen's recipe for Slow Cooker Meatloaf  HERE
Easy meal idea: serve with canned peas and corn and mac 'n cheese
4 | Smoky Baby Back Ribs in the Crock Pot
This is a really good recipe.  Using the recommended quantities as a guide I will sometimes mix the recipe up with different seasoning and sauces. After cutting the ribs into smaller pieces of 2 to 3 ribs (depending upon how large), I sprinkle with a good BBQ pork rub and place in the crock pot on low for about 5 to 6 hours. I take them out when there're done but not falling off the bone. From there we toss them on the grill with our favorite BBQ sauce to get the grill taste and they come out perfect every time.  Hint – only grill for 2 – 3 mins each side on medium heat.  Too long on the grill and they will dry out.  Have fun with your own combination!  See Smokey Baby Back Ribs in the Crock Pot recipe from Shockingly Delicious HERE
Easy meal idea: serve with corn-on-the-cob and baked beans.
5 | Slow Cooker Meatball Sandwiches
Photo courtesy of www.tasteofhome.com
Buying pre-made frozen meatballs makes this meal a cinch.  Add meatballs to the crock pot with your favorite marinara sauce until they are cooked through. Slice buns, making sure not to cut all the way through. You don't want your meatballs falling out every time you take a bite. We top our sandwiches with shredded mozzarella cheese. In fact, if you want a little extra yum, toast buttered split buns on your grill (or RV oven).  See Taste of Home's delicious Slow Cooker Meatball recipe HERE
Easy meal idea: serve a bagged caesar salad