Serve yourself up a slice of Americana – the great American road trip! Taking any, or all, of these 9 unforgettable and scenic U.S. road trips will guarantee an awesome trip.
9 Unforgettable and Scenic U.S. Road Trips
Blue Ridge Parkway
Photo: Virginia Blue Ridge
Right in our own backyard, we have visited The Blue Ridge Parkway several times and it is incredible. Especially during the Fall. The Blue Ridge Parkway is a 469 mile scenic National Parkway bordering the Great Smokey Mountain national park and the Shenandoah National Park. The parkway winds its way along a mountain ridge through North Carolina, Virginia, and Tennessee.
There are many opportunities for stopping and taking in the view. You can stop at one of the many overlooks, or choose to take a break from your drive and do a hike. Our family loves to pack a picnic and stop at one of the many great spots (wherever the views are fantastic).
The Blue Ridge Parkway is perfect for hikers, photo buffs, and picnickers alike. Wildlife and waterfalls are in abundance, including bears. Be on the lookout for wildlife while driving.
For more information, the National Park Service has a virtual Blue Ridge map that will help you in your planning, HERE. National Parks Traveler also has a very helpful post on great picnic spots, see HERE.
Skyline Drive, Virginia
Photo: Visit Skyline Drive
Skyline Drive is a picturesque 105 mile National Scenic Byway in Virginia. The byway runs the entire length of the Shenandoah National Park, much of it along the ridge of the mountains. The views are incredible and there are around 75 overlooks along the way so there is plenty of opportunity to stop and take in the sights. Hiking and wildlife viewing is very popular along the route as well.
Great road trip idea! Extend your road trip by also driving the Blue Ridge Parkway, taking time to explore The Great Smokey Mountains National Park and Shenandoah National Park while you're at it.
The Black Hills of South Dakota
The Black Hills of South Dakota are incredibly beautiful and diverse. You'll see prairie grasslands, mountains, crazy geological rock formation, and tons of wildlife. Badlands National Park and Wind Cave National Park aren't on people's radar as much as other parks in the US, but we rank it up there with one of the most beautiful National Parks we have in the United States.
This route takes you through some of the most scenic parts of the Black Hills and Badlands, including Badlands National Park, Custer State Park, Mt. Rushmore, Wind Cave National Park, Deadwood, then ending at the Devil's Tower National Park. Unlike the other road trips we have recommend in this post, there is no one specific road to take you to all locations. To help you out, here is the route we took over the period of one week (too much to see in one day):
From I-90 take 73 South and turn West on to 44 scenic to visit the visit Badlands National Park. Get back on to  44 towards Rapid City and head to Mt Rushmore. After seeing Mt. Rushmore drive to Custer State Park and then Wind Cave National Park. After  visiting Wind Cave National Park, make your way back to Custer State Park to meet up with Needles Highway (Hwy 87), then take 385 North towards Deadwood. From Deadwood head to Spearfish via Spearfish Canyon  (85 to 14A), then on to Devil's Tower National Park.
For more trip planning information see HERE
Florida Keys Oversees Highway
Photo: Gypsy Guide
Completed in 1912, and designated a National Scenic Byway, the Florida Oversees Highway (US Route 1) is a 113 mile breathtakingly scenic drive through the Florida Keys. Much of it surrounded by water, or directly over the water, as is the case of the 7 mile bridge stretching between the middle and lower keys.
There are some really neat places to stop along the way. Our favorite was Bahia Honda State Park and Beach, The Turtle Hospital, and walking the old seven mile bridge. Walking the old bridge at sunset is beautiful!
Having traveled on this road on a weekend during the Summer we found that it can get very congested. We highly recommend driving the road in the off-season.
The Great River Road
Photo: Great River Road Wisconsin
What could be cooler than a road trip down the Mississippi? Covering 10 states, the Great River Road National Scenic Byway runs along the Mississippi River for 3,000 miles between the northern most part of Minnesota and all the way to the Gulf of Mexico. It is estimated that trip can take 36 hours driving time, and most people do it in about 10 days.  Many people travel the road in their RV and take months to complete it.
The Mississippi has long been a major artery running right through the middle of the US. There are many riverfront towns and cities – and a whole lot of American history. There is an endless list of sights to see, places to stay, and things to do.
We will be driving the Wisconsin piece of this road (250 miles, 33 river towns) on our next summer's RV adventure. Our route will start in Prescott and ending in Kieler, WI. Approximately 250 miles and 33 towns of history, beauty, craft breweries, wineries, quaint riverside restaurants, and nature. What more could you ask for?
More information on the Great River Road, HERE
Pacific Coast Highway
Photo: The Blonde Abroad
This is the one I'm sure you have heard about.  Stretching along California's coastline, the Pacific Coast Highway is a scenic wonder, with gorgeous views and charming coastal California towns. Designated as an All-American road you'll wind your way through Santa Barbara, Monteray, Carmel, Big Sur, Santa Cruz and many other seaside towns.
Summer months can get crowded and you may experience fog. We suggest a visit during the Spring, or September and October as the Summer months can get crowded.
Maine Coastal Road Trip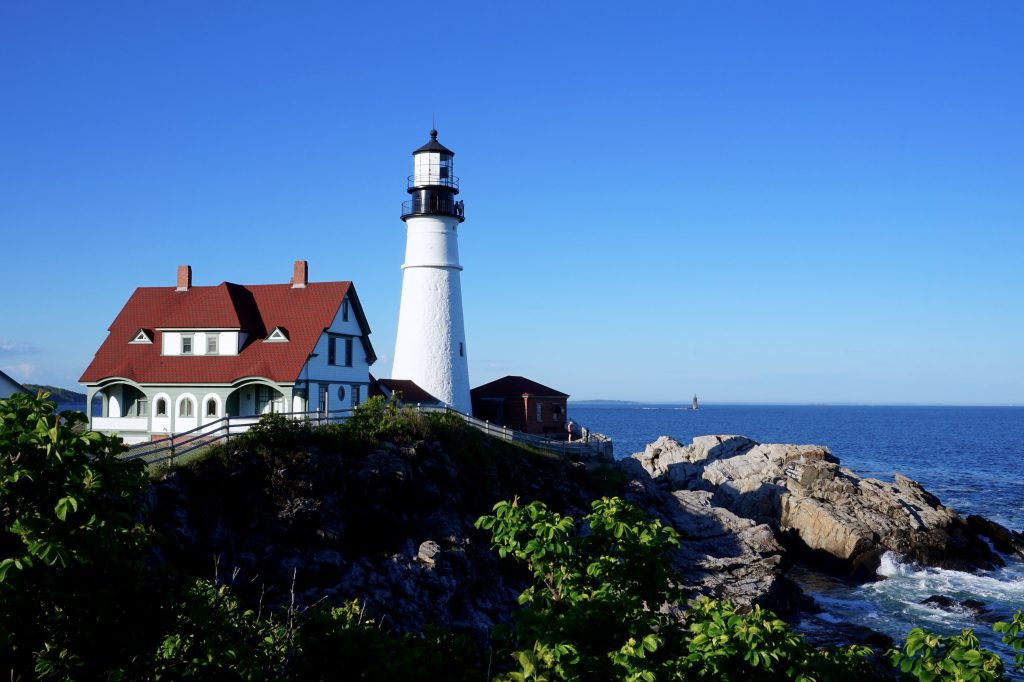 Photo: Our Wandering Mind
Yep, this is the same US Route 1 as the Florida Oversees Highway. US Route 1 is the longest North South Road in the United States. We recommend starting in Bath, stopping in Kennebunkport, Bucksport, and ending in Bar Harbor to explore Acadia National Park.
Plan on spending a few nights in at least 2 of the towns to give yourself ample time to explore. If you really have some extra time, extend your road trip on US Route 1 to the Canadian border, it's ending point. If you've also done the Florida Oversees Highway drive then you will have visited the most northern point of US Route 1 and the southernmost point. Very cool.
Natchez Trace Parkway
Photo: Style Blueprint
Natchez Trace Parkway is a parkway commemorating the original Natchez Trace. The parkway is an historic byway running about 440 miles between Natchez Mississippi and Nashville TN.
The original historic Natchez Trace was a historic corridor originally used by native Americans, then by explorers, and traders. The proximity to the Mississippi meant that transportation was easier by river than overland so the road itself never really took off as a major passage for settlers and traders.
Driving this road is like experiencing a beautiful piece of history, and there are quite a few things to see along the way. Our favorite stops were the Cypress Swamp and Sunken Trace. Hiking, horseback riding, and camping are popular as well. You can find more information from the National Park Service, HERE
Stop at Loveless Cafe outside of Nashville for biscuits and fried chicken! No, I am not affiliated with the Loveless Cafe – they just have really good food! 🙂
Centennial Scenic Byway
163 miles of panoramic mountains, ranches, and wildlife between Pinedale and Dubois, WY. If you're driving to the Grand Tetons and Yellowstone from the East, this is the most common route that people take.  We highly recommend it because of the easy roads and spectacular scenery.
This area is particularly known for pronghorn sheep, and you'll see many bison and deer between the Grand Tetons and Jackson Hole. Make sure to stop in Jackson Hole and look around the town. They have some great shops and restaurants!