Despite what many travel advisors say, you can have a great European trip with only one or two weeks of vacation time. Yes, planning a meaningful and stress-free trip to Europe is a challenge but you can do this – and it won't exhaust you or break the bank either.
Planning a Meaningful and Stress-Free Trip to Europe
Does this Sound Familiar?
Do you love to travel but have very limited vacation time?
Have you traveled to Europe before and come back more exhausted than when you started because it was a whirlwind race to see everything?
Are you exhausting yourself trying to plan the perfect trip?
How our Family Travels
My husband and I (and kids) travel a lot. Usually taking 2 vacations per year. No, they are not expensive, nor fancy, nor lengthy. Just like many of you, we are super busy. We both have full time jobs, budget constraints, and schedules to consider. We also have 3 teenage sons that are almost heading off to college.
Our family loves to travel, but between our limited vacation time, and their school schedules, and just life in general, we have to get really creative with our travel planning.
Yet, despite all these things to consider, we still manage to take relaxing and meaningful trips to Europe, with vacation time left over, and return mostly refreshed (excluding a little jet lag).
It has always been very important to that we not to just show up, see the sights and leave. We seek more.  It's harder to do this when you're short on time, but still very much possible. When we travel we really like to experience the area, searching for fun things to do and experiencing what might expose us to real life. Like the locals and their culture. Oh, and food. You can't forget the food.
Our Not So Secret "Formula"
We are the master's of the 9 day vacation.
Typically we fly out Friday evening, arriving in Europe on Saturday morning at our first chosen city or region. Spend 2 or 3 nights in this area then move on to next city or location. Allow a full day of travel to you next destination. Try to keep this a reasonable distance so you can use this as a no-rush sightseeing day. Spend 2 or 3 nights at your next chosen city or destination then travel out on Sunday morning, not too early, arriving home Sunday evening.
7 tips for planning your trip
1 | Don't make planning a chore.
Part of the fun is the process BEFORE the trip. If you're not enjoying it, then you're not doing it right.
Have fun with your planning, don't make it a chore. It's a huge world out there and the possibilities of where to go and, what to do, are endless!
Some people just 'wing it" and try to plan as they go.  While this works for some people, it can lead to wasted time once you start your trip.
Its kind of like planning a wedding.  You can't expect to start planning the week before the wedding and expect that it will be the greatest day ever.
Do a little research and let it sink in for a while.  Then come back and review again.
And don't wait till the last minute.
2 | Plan and research well in advance.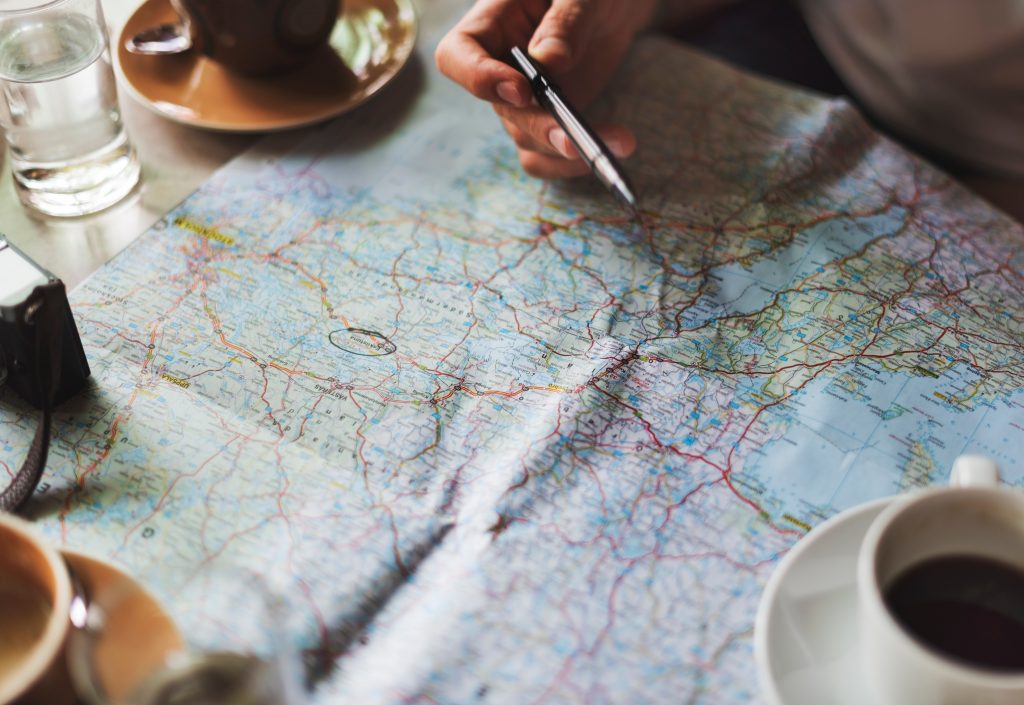 We plan at least 12 to 18 months in advance. This will give you plenty of time to make well thought out decisions.
If you are considering Europe but don't know where to go, by all means post your questions below. Maybe we can all help each other come up with some cool trips! 🙂
Start by asking friends and family for ideas. Search online for inspiration, watch some travel shows, and pick up an overview travel guide (with good photos) on Europe. Pinterest, Instagram, travel bloggers, Trip Advisor, are all great options for inspiration.
Just as a personal preference DK Eyewitness Europe does a really GREAT job summarizing the countries. They also have some really great pictures, illustrations, and maps that I find very useful in our initial planning.
Once you narrow it down to exactly where you are going,  purchase reliable guidebooks to complete the rest of your planning. Order a few guidebooks specific to the area you are traveling. In my experience, Rick Steve's, DK Eyewitness, and Lonely Planet are VERY reliable sources of information. We have never found any inconsistencies in the information they provide.
A quick note on guidebooks. We use electronic versions of guidebooks when we are actually traveling so that we don't have to carry them with us. Once you buy your electronic version of the book you can install the reader app on multiple devices. This is super convenient because you can install it on your smartphone.  Talk about convenient!
3 | You CANNOT see everything.
When planning, realize that you won't be able to see everything.
Many people don't consider this but changing locations can eat up a lot of time, energy, and money traveling.
It's important that you prioritize the things you want to see.
Set your sight on a couple of locations, or cities, then plan meaningful activities & experiences from there.
Rank the things you want to see or areas you want to go and take everyone you are traveling with into consideration. Get their input? This includes your children. Traveling with children will be much easier if they have an interest or something to look forward to in the trip.
Think of travel as a lifelong commitment. Plan on going back to places you really love for a more in-depth look later. You don't have to see it all on this trip!
4| Know your limits.
Know how your spouse, or kids, are to travel with. Consider all travel companions. Some people are go-go-go, others are laid back. Others don't like crowds, or heat., and some love crowds, and cold weather. You get the idea.
Understand your limits and don't over-schedule yourself. It's easy to be an armchair traveler and get ambitious. I am guilty of this every time we take a trip.
It's amazing what you're willing to give up when you've walked miles and your feet hurt. You're going to be really disappointed later if you sacrificed one of your important must-sees because you were tired. Make sure to do your highest priority item first.
If you're new to traveling and don't know your limits, do a "trial" run and plan a 2-night weekend trip to a city near you. Plan the weekend and tackle the sightseeing like you think you would for a trip to Europe. Reevaluate when you get back.
5 | Understand how much time you need.
If you are moving from large city to city, then allow 2 to 3 nights, so 3 to 4 days in each city. You can get a good feel for a city in that amount of time. Plan on staying longer if you find a centrally located city and are planning to make day trips from there.
Remember the 9-day vacations I mentioned? As a rule of thumb, we can get in 2 major cities, plus travel between. Or, 1 major city, and 1 central location as a base for day trips.
This past December we spent 9 days in Ireland. We allowed 2 nights for Dublin, 2 nights in Western Ireland at Ashford Castle in County Mayo, and 5 nights in County Clare as a base location for day trips to the South/SW of Ireland. While we would not typically splurge for such luxury accommodations, it was the off-season and we felt that while we were in Ireland we just HAD to stay in a  castle!
6| Set a budget and follow it
Traveling to Europe CAN be done without breaking the bank, you just need to set a budget. I know, it's no fun to set a budget but it's super important. If you stick to your budget, then you will be able to travel more.
Our family has a travel budget every year. Because we are very careful in our planning and utilize a variety of ways for finding travel deals it affords us two 9 to 10-day trips per year. We usually travel to Europe one of those trips, and within the U.S. (in our R.V.) the second trip. This year we've traveled to Europe twice and have taken weekend getaways in the R.V.
As I am writing this I am realizing that this topic could be a post all on it's own. Hmmm…lot's of ideas forming in my head! Stay tuned…
7| Start your trip before you get there.
Once everything starts falling into place and you know where you are going, start learning about where you be spending your time.
Travel is about exposing yourself and your loved ones to the wonders of the world.  Whether you realize it or not, you will learn things you never knew, and will be a better person for it.
Don't just show up without any understanding of the area. It is unfortunate for me, but I used to do this when I was younger. The most important thing was to see the sights and move on. I never connected to any particular area because I never took the time to understand a little about it before I visited.
Time to dig into those guidebooks.  Start highlighting, turning down page corners, use sticky notes, or however helps you best make use of the information in the guide.  Each guide may be structured differently and offer different ideas and options for the traveler.  There is no right or wrong way to explore.  But just remember you don't have to do everything in the guide and you don't have to do it in the order they suggest.
Read non-fiction and fiction books that take place where you're going. Especially in the case of Europe, there are many many books to help you understand the history in a fun and exciting way.
Brush up on the history of the area you are visiting. WWI and WWII had major impacts on Europe.  The relatively recent fall of Communism in Eastern Europe has changed things dramatically too.  There are hidden treasures behind the former Iron Curtain!!!
Watch some movies that are filmed where you are headed.  Some people plan their trips from movies they've watched! A huge percentage of people traveling to Salzburg, Austria are there because the Sound of Music was filmed there.
Heck, I'm not ashamed to admit that I watched Gigi before going to Paris, or Roman Holiday with Carey Grant and Audrey Hepburn before going to Rome! Or the Quiet Man before we left for Ireland! LOL!
xoxo
Kori